Our philosophy
Wide range of services
Service and maintenance services independent from turbine manufacturers
Wide range of services
Experience and competences
The high technical availability of our assets is essential in order to be able to supply as much clean energy as possible into the power grid with our power plants. We ensure the optimal operation of our wind turbines, medium voltage transformer stations, medium voltage transmission stations and substations for all wind farms to be able to do that. Technical works in this area are executed by qualified and experienced Prokon employees.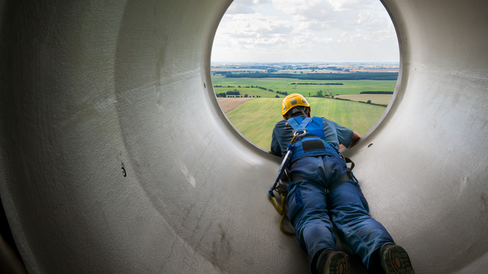 In order to ensure the above-average efficiency of wind farms over the long term, Prokon regularly carries out technical inspections and check ups. We check the conditions of our wind turbines and repair any faults.
The optimum stock of spare parts is also of great importance in order to guarantee the smooth running of maintenance and service work. That is why the central warehouse in Itzehoe stocks all important spare parts and consumables as well as large components. All typical spare parts and consumables are also available at other service points, including our Polish service point in Bełchatów.